About the Society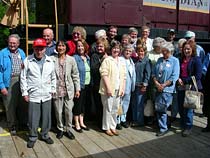 The Alberta Grain Elevator Society (AGES), is a province-wide organization whose mission is to promote the history, preservation and development of prairie grain elevator and flour mill sites. Achieving this goal through education, AGES plan to collect and disseminate information to the media, schools, local elevator groups, and interested individuals. Plans include holding workshops, developing a speakers bureau, maintaining a web site, producing newsletters, and building an active membership. Through AGES a sharing of resources will occur and a data base of elevator consultants, contractors, and historical advisors will be available. With AGES, long-term planning can occur, insuring a simple succession from one generation to the next. The grain elevators have stood on the prairie landscape for a 100 years lets make sure they remain for a 100 more!
Background
In the early part of the 1900's a building frenzy occurred on the Canadian prairie! Grain elevators were being built in just about every town along the railroad right-aways. The grain elevator spelled prosperity to the town and region where they were located. Quickly they became the commercial and social centers for the new "Last Best West". Rows of brightly coloured elevators became cultural landmarks, a symbol of greatness for the productive prairies.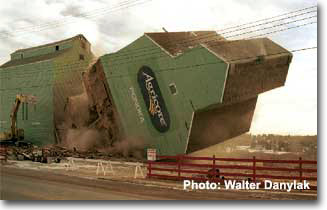 As a new century unfolds, these same elevators are being demolished as fast as they went up! With the loss of the physical structures comes the loss of history associated with them, the loss of a spot on the horizon that identifies a community, a region and a way of life. AGES sees the need for progress, but they also ask "'what about the legacy"? What are we leaving future generations? How will we know how for we have progressed if we don't know where we've been? AGES says "Lets preserve some of our history, our heritage, and leave some of these beautiful prairie sentinels for the future."
Annual subscriptions are per calendar year
| | |
| --- | --- |
| Individual membership | $25.00 |
| Family membership | $40.00 |
| Institutional membership | $100.00 |
| Corporate membership | $1000.00 |
Contact Us


Please feel free to contact AGES at:

info@grainelevatorsalberta.ca
To advertise on this site, please contact:

Alberta Grain Elevator Society: website editor

web@grainelevatorsalberta.ca